Vanguard Awards

Win the
Doc Barry Memorial
Bovine Excrement Award!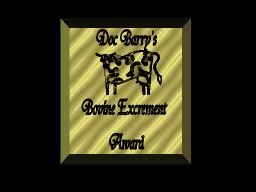 This fine honor is bestowed on those who have contributed the best in BOVINE EXCREMENT to the UFO community!
In memory of Doc Barry
August 18, 1927 - January 13, 1999
Doc was one of the greatest proponents of truth and honesty in UFO reporting and never hesitated to express his opinions. This award is intended to be fun and to enable us to laugh at our selves. That's what Doc would have wanted.
We miss ya, Doc.
"Who loves ya, Baby?!"
Visit Doc's Vanguard Memorial Page at
http://members.tripod.com/TheVanguard/dbm.html