October 25, 1999
(Page 3 of 3)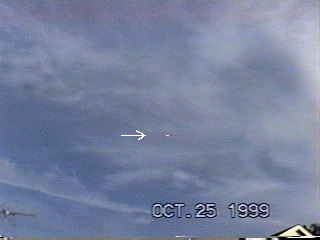 Animation of glowing disc-like object using clips from original footage.
Could this be what the two pilots saw over Dallas in the early morning hours of October 26, 1999?
Answer: This was a plane turning south heading for Dallas Love Field Airport.999
© 2000 A. Hebert
All photographs, images and material presented on this page
are copyrighted material and may not be copied or printed without prior permission from A Hebert.