May 28, 2000
(Page 3 of 10)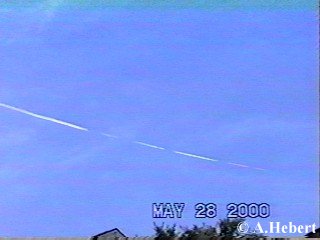 Image #1
Image of a "dash-dash" contrail.
Answer: According to M. Kim Johnson, Physicist ("http://www.nmsr.org/chemtrls.htm"), "If the atmospheric water content is not consistent with altitude (picture atmospheric "waves" of high water vapor content below a layer of low water vapor content much like
waves on the ocean), then a jet will alternately pass through
air that allows contrail formation and air that does not. This
gives the appearance of a dashed line if the plane is flying at,
or near the perpendicular to the waves."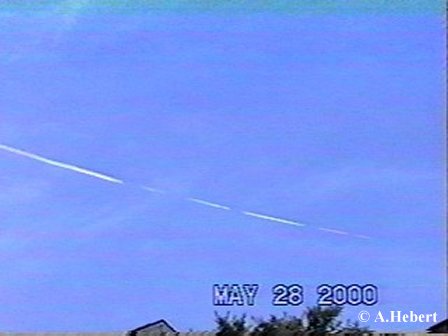 Image #2
Enlargement of Image #1 of "dash-dash" contrail
I watched this contrail being formed and video taped the event. At the time I believed the airplane was intentionally turning the contrail on and off but later, through study and careful observation, understood the dynamics causing this phenomenon to occur. I have also watched straight-line contrails form then parts of that contrail dissipate until all that is left is a "dash-dash" contrail.
There are actually people running around pointing to these two types of contrail phenomena claiming "dash-dash" contrails are caused by pilots turning some biochemical "spray" off and on. I have personally observed and video taped/photographed both kinds of "dash-dash" contrails as they formed and I know this effect is due to atmospheric variations and not some conspiracy to wipe us off the face of this planet.
© 2000 A. Hebert
All photographs, images and material presented on this page
are copyrighted material and may not be copied or printed without prior permission from A. Hebert.