June 6, 2000
(Page 7 of 7)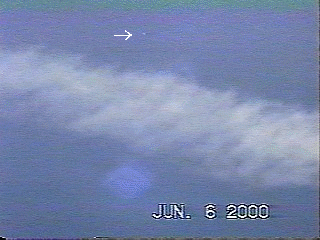 Animation using clips from footage of white sphere flying into a contrail.
(If animation does not start automatically, click on the picture.)
Answer: White bird flying between a white contrail in the sky and the camera.
Note: The white bird appears to fly through the contrail because it is the same color as the contrail - white - and thus blends in with the contrail in the background making it seem like it is flying through the contrail.
© 2000 A. Hebert
All photographs, images and material presented on this page
are copyrighted material and may not be copied or printed without prior permission from A. Hebert.